ALACHUA, FLORIDA – When Tiffany and James toured wedding venues, they asked all the right questions about pricing, included services, hours of access and more.
But what they didn't think to ask was whether any of their potential venues had a generator in case of a power failure on their wedding day.
Thankfully, the venue they chose DID think of that very necessary, but not-so-common detail.
So as the new Mr. and Mrs. Miles celebrated with friends and family in June at C Bar Ranch, most of the crowd didn't realize that a nearby thunderstorm had knocked out power across that whole corner of the county. Behind their luxury barn wedding venue, a powerful generator hummed into action seconds after the electricity suddenly flickered. With the generator in action, the dance party continued…literally, without missing a beat.
If there's any chance our a power outage could pull the plug on your perfect day, check out our first tip, then read on for more must-ask questions for rustic venues:
Is there a generator to provide power in the event of an outage? It doesn't have to be stormy out. Outages can occur when trees fall, when traffic crashes involve power lines, or when any number of unforeseen accidents happen – not just on the venue property, but anywhere in the surrounding area.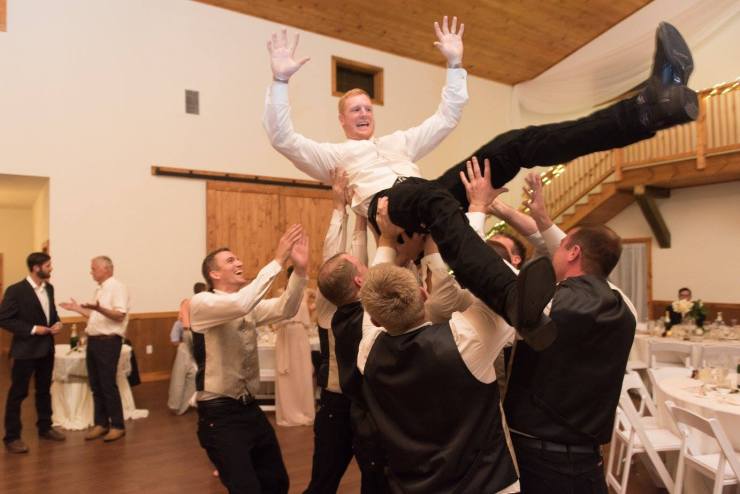 Is the venue operating legally, and with the proper local permissions? As more rustic venues pop up in rural areas, couples who book them are finding the planning for their perfect day suddenly can be put on hold indefinitely when neighbors complain or government officials find out and shut down their venue. Here's the problem: many – even some that advertise heavily and seem highly in demand – aren't operating with the proper permitting and the blessing of local land-use and zoning officials. Ashley and Adam were devastated when they received an email telling them that their Central Florida venue was facing that problem. They were fortunate — they found another barn they loved with an opening on their day. But it doesn't always work out so smoothly. So don't worry about offending someone. Just ask if he or she can guarantee with certainty that the venue is operating legally. Not asking could bring catastrophic consequences.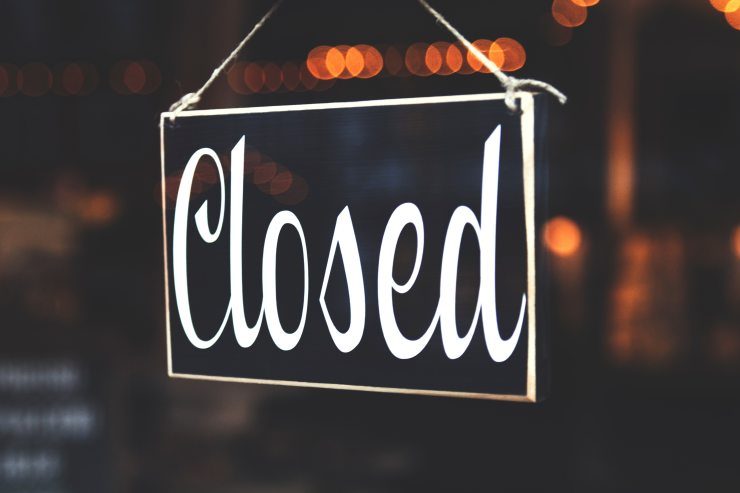 Where will the wedding party and guests use the restroom? In the restroom facilities, right? Not necessarily. Many barn venues don't have indoor plumbing. And some have only limited facilities. Very limited. So many couples realize too late that they'll need to bring in "royal restrooms," basically porta-potties on trailers. Even if you and your guests don't mind using them on your big day, you might be shocked by the cost to bring them in. Portable toilet rental can run from $1,000 to $3,000 per day.
Will there be a staffer on-site throughout the festivities? You'd expect that to be a no-brainer. But surprisingly, many barn venue operators don't stick around to make sure there aren't any issues that need to be solved during your celebration. People love the relaxed atmosphere of being out on a farm, instead of a traditional venue in a metropolitan area. But farms do bring some risks, when operating as a venue is just a side hustle for the farm owner. In cases like that, the venue may be little more than a cleverly disguised, retrofitted equipment shed. And the farmer may have no intention of providing attentive customer service. He may hand you the keys and tell you to have a great time. The problem is, your great time could be ruined if you have a need arise and there's no one who can resolve the issue. You'll want to be sure that a venue representative will be there for the entire celebration, ideally, one who cares enough about your day to stay on-site helping other vendors, checking on bathroom cleanliness and generally pitching in with a helpful attitude.
Is there enough cooling or heating power to keep the bridal party and guests comfortable? Some barns have been retrofitted with A/C units. But if the facility wasn't built for the purpose of hosting events, chances are a transformed barn won't be tight enough, with enough weather-proofing and insulation to truly hold in air-conditioning or heat and to managed the moisture in the air. If there's any chance of less-than-perfect temperatures and humidity (think Good Hair Day versus Bad Hair Day; happy revelers versus sweaty, drippy dancers; picture-perfect make-up versus goopy, smeared and shiny) it's wise to consider how reliable your venue's climate control will be. Are there porches with fans to keep everyone cool and comfortable when they're outside? Is there a heat source on patios, in case your plan is for guests to linger there for cocktail hour?
Is there a place for everyone to get ready in comfort? You'll want to have a comfy place for the guys to get dressed and hang out, while the girls get gorgeous in a clean, relaxed, well-equipped space designed for the purpose. Ideally, these rooms should have separate dressing areas, makeup and hair stations (for the girls), an area for snacks, a mini fridge, and a private bathroom, so you don't need to leave the room for anything. You don't want to spot each other before the Big Reveal! And you don't want to get sucked into long smooch-and-hug fests with early-arriving guests before the ceremony. Private, private, private and comfortable is what you want for these rooms.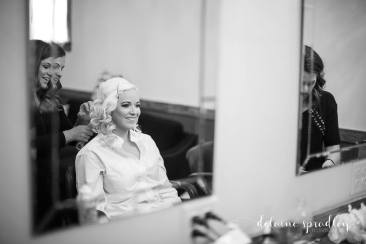 Is the facility accessible for people using wheelchairs or walkers? Ideally, you'll want your venue to have a handicapped parking space and a way to pull close to the building to drop off elderly guests or people with mobility issues. And you'll want bathrooms accessible and comfortable for everyone. Look around. Are there paved walkways to the building and wide doors throughout, even in bathroom areas? Steve and Rosha's celebration wouldn't have been complete for them, if it couldn't have included their friend in a wheelchair. So accessibility was a must for them. Is it for you?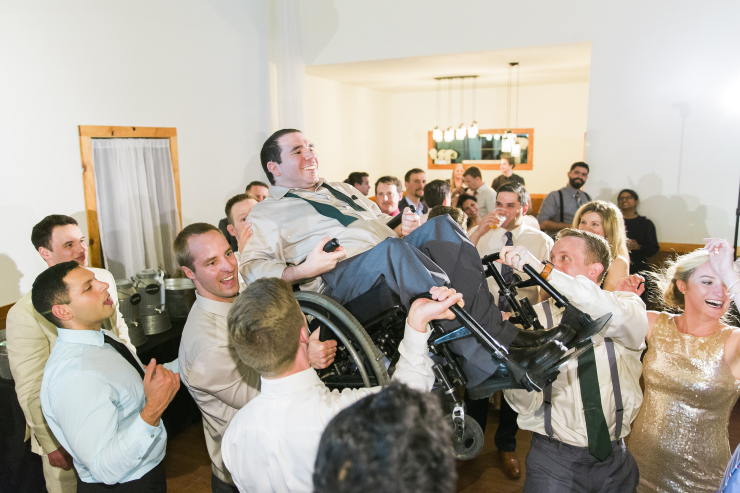 What are the additional services offered and what's the cost for those? It can be a major bummer to find that the price you saw online isn't really the price. Some couples find that when all needed services are added to the bottom line, they're way past their budget for the venue. Ask this question early, so you won't waste your time or theirs touring a venue you can't possibly afford.
Is there a commercial-size ice machine? If the answer is yes, this means a big savings for you and a big convenience on wedding day. If there's no ice machine at your venue, you'll need to add ice for drinks to your budget, and you'll need a plan for storing it so it doesn't melt.
Is there a fully-equipped kitchen for the caterer? Many rustic venues don't have a kitchen, which means your food might have to be prepared outside…with bugs, dust and dirt, and a lack of proper refrigeration or warming. And no kitchen means no refrigerator for the caterer to leave your leftovers. Food you paid for would have to be thrown out. Plating and prep areas, ovens, sinks, refrigeration and freezer space is more important than you may realize. And cleanliness isn't just a plus, it's a must.
Do I have to rent tables and chairs? This one sneaks up on a lot of couples. Just when they're feeling pretty great about staying within their budget, they realize that their venue doesn't provide seating or tables. Depending on the size of the wedding, rentals for tables and chairs can quickly creep into the thousands. Many thousands. You'll want to know up-front if your venue will provide the seating for the ceremony, and the tables and chairs for the reception. Nowadays, some provide seating options for the ceremony — a choice between chairs or rustic benches. But don't assume the use of them is included in the price. Definitely ask!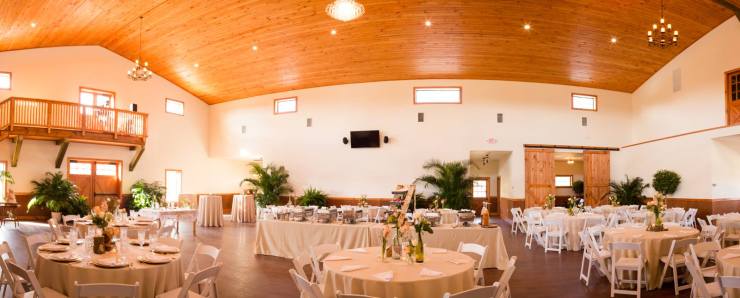 Is it a requirement to use vendors from a preferred vendor list? Don't assume a venue will allow you to hire your favorite vendors. That photographer with all the creative ideas. That caterer with the to-die-for dishes. The DJ who played the perfect tunes at your friend's wedding. If those vendors aren't tight with your venue, you might not be able to use them at your wedding. Ideally, you'll want to book a venue that is willing to share opinions about vendors who work in the area, but won't dictate which vendors you can and can't use.
How much time is allowed for set up, and must everything be carted out right after the wedding? Answers to this question vary wildly, as some rustic venues allow the day before the wedding for set-up, and the day after for retrieving your things. Others expect you to spend just one day on the property. Can you handle the pressure if your venue only gives you a day — just hours to set up, have your party, and get your things packed up and to your car? Or will you feel more relaxed if you can set up the day before, enjoy your Big Day, and then return on the day after to pick up anything you don't want to carry with you when you leave your wedding? You may save money if you can cram everything into one day. But if you favor having more time, you'll want to choose a venue that books just one wedding per weekend.
Can the rehearsal and rehearsal dinner be held at the venue? Here's a way to save big bucks! Many traditional venues don't allow you to have your rehearsal at the actual ceremony site the evening before your wedding, or they charge extra for rehearsal time. And usually, there's no option for a rehearsal dinner there, at all. That's because they book multiple events in that space each weekend. One advantage of rustic venues is the trend to allow rehearsals and a dinner on the night before the wedding, often under the stars. Some don't require traditional catering for that more-relaxed event, which would allow you to save hundreds or even thousands. Bonus: Many rustic venues offer patios with romantic uplighting on trees, market lighting, water features, or a fire pit, which can make for a cozy gathering of your closest loved ones the night before you become Mr. and Mrs.
What's your best tip for picking a rustic wedding venue?
Please share it in the comments below.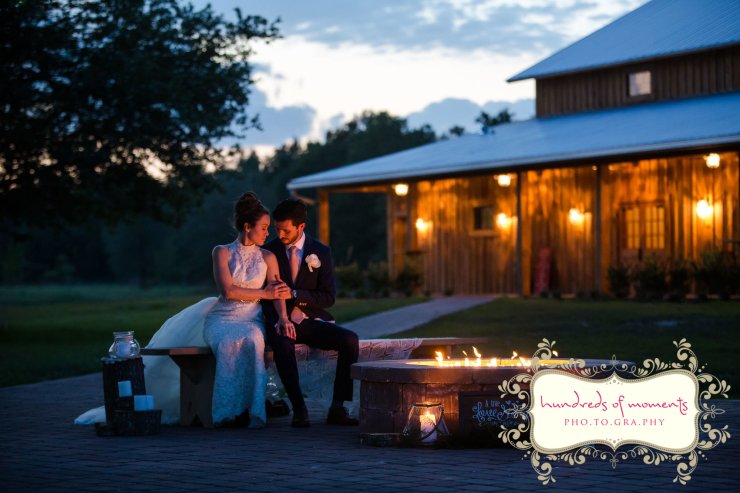 About this blogger:
Nanette Holt has written for some of the world's largest magazines and newspapers during her 28-year career as a professional journalist. She now focuses most of her time making wedding day dreams come true at the rustic venue she runs with her husband and their three children in Alachua, Florida. You can learn more about the Holt family's popular venue, C Bar Ranch and Organics, by checking out www.cbarranchevents.com or www.facebook.com/cbarranchandorganics.